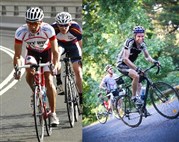 Hugh Peck

Expires
Tuesday, 30 June 2015
Everesting for Lilyroo
On Saturday 28 March, Brendan Edwards and Robin Weber are Everesting For Lilyroo up "Little Joe"! Not only are they putting their hearts and souls into this grueling challenge, but they're doing it to raise funds for the Lilyroo Fund and raise awareness of the wonderful work being done each day at the Royal Women's NISC Unit, giving hope to sick and premature babies.
What is Everesting? Put simply, pick a climb, ride up and down it until you have climbed 8,848 vertical metres. Brendan and Robin are starting at 4am and aim to be finished by 10pm.
Why Everest "Little Joe?" There's no such thing as an easy Everest, and each one offers its own challenges. I (Brendan) was first introduced to the Little Joe climb in 2013 during the Hells 500 event "Donna Done Dirty". It was a very difficult climb to push yourself up, and one which almost deserves iconic status.
About Brendan: Hi, my name's Brendan Edwards. I rediscovered cycling after rupturing my Achilles tendon back in 2009. One of my co-workers suggested that I enter into the 50km Around the Bay in a Day. I wasn't sure if I could go the distance, so I pulled my old Mountain Bike out of the shed & rode 2km's ride around the block and came home completely out of breath, and totally exhausted. I was hooked!
I found my niche in climbing, and when the Everesting challenge came to fruition at the start of 2014 I gave it everything. I put my heart and soul into trying to Everest Perrins Creek Road and failed miserably. I had to pull the plug at 7,400 metres. I felt that to make amends I'd have to do it Hells 500 style! To make it as hard as I could possibly make it, so I returned 7 days later; tired from the first attempt, with less sleep and carrying a niggly knee injury. That was easily one of the hardest rides that I've done and I succeeded. I have since Everested 4 other times.
I am the founder of the Strava Club "the Dandenong Ranges" https://www.strava.com/clubs/79601 and I also blog: http://dandenongrangesadventures.blogspot.com.au/
About Robin: Hi, my name's Robin Weber, I'm a former competitive swimmer who was introduced to cycling as means of getting to and from training. I soon developed a passion for riding and started exploring the suburbs of Sydney on the weekends. About 10yrs ago, after finding myself getting very unfit and having way too many extra kilos, I jumped back on an old mountain bike with the goal of riding the 80km Sydney to Gong Charity ride in Sydney. Just before the event, I decided to buy a road bike, finished the event on it and fell completely in love with the sport. I soon started racing both Road and mountain bikes. I've competed in numerous 4hr, 7hr and 24hr mountain bike races, criteriums and road races, cycled 500km along the Birdsville track surrounded by desert and traveled around Australia to ride in various events.
I've always loved hills and only discovered how big they can truly get when my cousin invited me to Bright to ride the Victorian alps a few years ago. I absolutely loved it and developed an even deeper love of climbing. This will be my third Everest. I love the challenge and I'm really looking forward to helping raise money for the Lilyroo fund, which is such incredible and worthwhile cause.
Click 'Donate Now' to make a secure online donation.
All donations over $2 are tax deductible and you will be issued with a DGR receipt via email as soon as you make a donation.
Thanks so much for your support!

The Royal Women's Hospital Foundation
The Royal Women's Hospital Foundation raises funds to support the vital work of the
Royal Women's Hospital (the Women's); Australia's largest specialist hospital for
women and newborns.
FUNDOMETER
Target
$1,000
Raised So Far
$1,458
Target
$100,000
Raised So Far
$127,793
Team member of The Lilyroo Ride 2015
View
My Total: $1,458
Team Total: $127,793

On 26th March 2014 Lily Mary Lockyer was born prematurely at 23 weeks and 6 days gestation. She was born too young to live a long and fruitful life and tragically passed away one day later. Her parents, Kristie and Pete Lockyer, set up the Lilyroo Fund to honour Lily's life by raising money for the Royal Women's Hospital (the Women's) Newborn Intensive Special Care (NISC) unit.
The Lilyroo Ride is a fully supported bicycle tour departing the Women's and Children's Hospital, Adelaide on Saturday 5th April 2015 and arriving at the Royal Women's Hospital, Melbourne 7 days and 1100km later on Saturday 11th April 2015.
If you would like to donate to one of our riders or volunteers, please click on their profile page and use the donate button on their page.
Any donations made on the Lilyroo Ride Team page are for the Lilyroo Ride as a whole.
All donations are greatly appreciated and will go to the Lilyroo fund and help us achieve our goal of raising $200,000 in support of NISC at the Women's. You can keep up to date on the Lilyroo Fund and Ride on our website and social media channels.
Thank you very much for your support. Your donation means so much to so many.
Best wishes,
Kristie, Pete and the Lilyroo Fund commitee
Biggest Supporters:
Daniel Carmody: $106.00
Mercia Weber: $106.00